Repetition Detector 2
Intelligent and user-friendly detection of repetitions
---
---

 Repetition Detector 2 helps you detect repetitions in texts (while preserving your formatting), and much more : overused auxiliairies, adverbs, adjectives and complete phrases are also detectable.

The software is available for Windows in English and French but works equally well with texts in Spanish, Portuguese, Italian, German, Dutch, Danish, Norwegian, Swedish, Finnish and Icelandic.


Download Repetition Detector 2 
(Click here to get downloading instructions)
Repetition Detector 2 is free during 30 days. In order to continue using it, you have to buy an unlimited-time licence for only $7.40 :

For any issue or question, please contact me on the forum or by e-mail.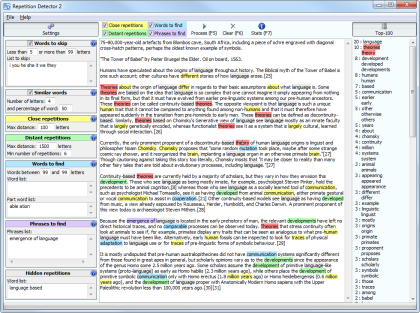 ---
Previous version of Repetition Detector is downloadable here:

Download Repetition Detector 1

Try here an online but very limited version of Repetition Detector 1


---
Features comparison
| | | |
| --- | --- | --- |
| | Repetition Detector 1 | Repetition Detector 2 |
| Highlight close repetitions (two close occurrences of a word) |   |   |
| Highlight distant repetitions (multiple and furthest occurrences) |   |   |
| Highlight each occurrence of a word by clicking on it |   |   |
| Take into account similar words, i.e. with same beginning (optional) |   |   |
| Top-100 of most frequently used words |   |   |
| Preserve MS Word© formatting |   |   |
| Search for words or word parts (prefixes/radicals/sufixes) : perfect to track adjectives, adverbs and overused auxiliaries |   |   |
| Search for specific phrases, such as your overused phrases |   |   |
| Temporary hiding system for minor repetitions (alt+click) |   |   |
| Improved interface (toolbar, removable panels, context-sensitive help) |   |   |
| Fully compatible with the main European languages: English, French, Spanish, Portuguese, Italian, German, Dutch, Danish, Norwegian, Swedish, Finnish and Icelandic |   |   |
| Fully compatible with last Windows versions (7, 8 and future ones) |   |   |